Homelessness, Architecture and Cities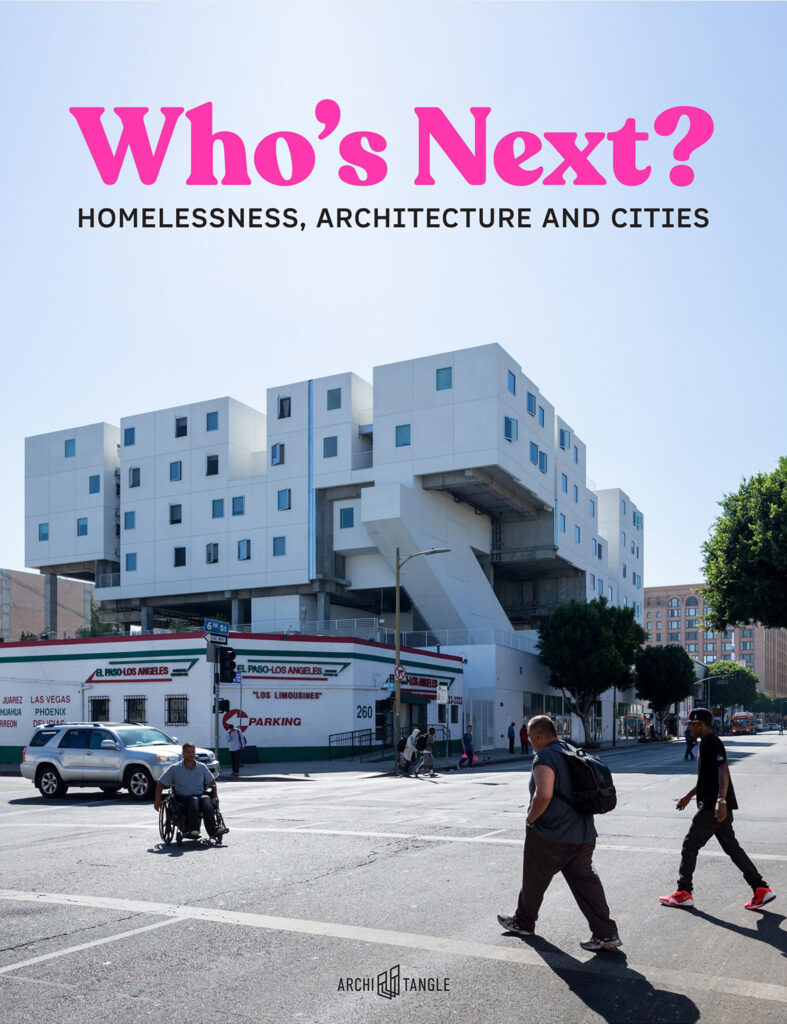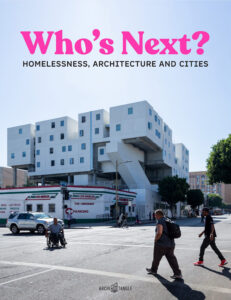 Homelessness—the state of having no home—is a growing global problem that requires local discussions and solutions. In the face of the coronavirus pandemic, it has noticeably become a collective concern.
However, in recent years, the official political discourse in many countries around the world implies that poverty is a personal fault, and that if people experience homelessness, it is because they have not tried hard enough to secure shelter and livelihood.
Although architecture alone cannot solve the problem of homelessness, the question arises: What and which roles can it play? Or, to be more precise, how can architecture collaborate with other disciplines in developing ways to permanently house those who do not have a home?
Who's Next? Homelessness, Architecture, and Cities seeks to explore and understand a reality that involves the expertise of national, regional, and city agencies, nongovernmental organizations, health-care fields, and academic disciplines. Through scholarly essays, interviews, analyses of architectural case studies, and research on the historical and current situation in Los Angeles, Moscow, Mumbai, New York, São Paulo, San Francisco, Shanghai, and Tokyo, this book unfolds different entry points toward understanding homelessness and some of the many related problems.
The book is a polyphonic attempt to break down this topic into as many parts as needed, so that the specificities and complexities of one of the most urgent crises of our time rise to the fore.
Catalogue with essays by: David Madden, Stephen Przybylinski, Don Mitchell, Luisa Schneider, Juliane Bischoff, Jocelyn Froimovich, Samia Henni, Alejandra Celedón, Nicolás Stutzin, and Fraya Frehse. City research by Aya Maceda and James Carse (New York), Valentina Rozas-Krause and Trude Renwick (San Francisco), María Esnaola Cano (Los Angeles), Clara Chahin Werneck and João Bittar Fiammenghi (São Paulo), Tatiana Efrussi (Moscow), Aditya Sawant (Mumbai), Zairong Xiang and Elena Vogman (Shanghai), and Helena Capková and Erez Golani Solomon (Tokyo). Interviews by Lluís Alexandre Casanovas Blanco with Robert M. Hayes, Binyamin Appelbaum with Veronica Lewis, and Giovanna Borasi with Michael Maltzan. Architectural projects by: Michael Maltzan Architecture,  eap Architekten.Stadtplaner, Holland Harvey Architects, Rogers Stirk Harbour + Partners, Baubüro in situ AG, Mépp, Ménard Partner Projekte AG, gaupenraub+/- (Alexander Hagner and Ulrike Schartner), Paulett Taggart Architects and Leddy Maytum Stacy, Brooks + Scarpa, Sorg Architects, pool Architektur, Michel Müller, Heiner Blum, Jan Lotter, and HKS Architekten, Alexander Gorlin Architects, Melanie Karbasch, Peter Barber Architects, Lorcan O'Herlihy Architects (LOHA), RKW Architektur +, KTGY Architecture + Planning, Grand Huit (Clara Simay, Julia Turpin), Architecture / Bruner Cott Architects, LMN Architects, and Grass+Batz+Arquitectos – Arquitectura UC.
Editor | Daniel Talesnik and Andres Lepik
ISBN number | 978-3-96680-017-4
Price | museum edition = 38 Euro (directly in the museum / CEDON)
book store edition = 48 Euro (at ArchiTangle and book stores)